Howard County is one of the most populated counties in Maryland.  Major highways and roads run throughout Howard County carrying drivers and passengers all over the state.
But, how many of these drivers are distracted?
Distracted driving is prevalent in Maryland.  In today's society, phones, GPS, apps and many other things divert out attention away from the road.  Add smarter cars with fancy gadgets and distracted driving continues to become more pervasive in populated corridors like Columbia, Ellicott City and Laurel.
What is distracted driving?
According to the Maryland Department of Transportation's Motor Vehicle Administration: Distracted driving is any activity that diverts a driver's attention away from the primary task of driving.
Types of driver distractions
Most distractions involve cognitive and sensory distraction. Just making a call on a hand-held phone alone involves holding, looking at, and touching the phone, dialing, and listening to and thinking about the conversation. Here, are the most common types of driver distractions.
Visual
Looking at something other than the road.
Auditory
Hearing something not related to driving.
Manual
Manipulating something other than the wheel.
Cognitive
Thinking about something other than driving.
How to avoid distracted driving
There are many ways you can avoid becoming a distracted driver, or a victim of distracted driver.
First, don't use your phone while driving.  Second, do not answer texts or incoming calls.  Finally, if you must communicate on your phone while in the car, then pull over.
Unfortunately, there isn't much you can do to defend yourself or your family against distracted drivers.  However, you can become part of the solution by reminding yourself and teaching your family about the dangers of distracted driving.
A great resource is EndDD.org.
Injured by a distracted driver? Call today for a free consultation.
When you are injured by a distracted driver, you need experienced legal representation to help process your bodily injury.  You need to focus on recovering from your injuries.  Your attorney's job is to make sure you get the compensation you need for medical bills, lost wages and other expenses.
Call the Law Office of Ross W. Albers today to schedule a free consultation.  There is no attorney's fee unless our office recovers a settlement or judgment in your case.  Call 443/457-3890 today.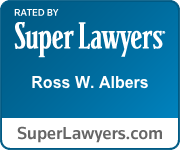 The post Distracted Driving in Howard County appeared first on Albers and Associates.