Dogs make great companions, but sometimes accidents do happen. Dogs can bite for any reason, what's important is to know what to do following a dog bite. To understand the best legal courses of action to take when involved with a dog bite, let's look at it from both perspectives!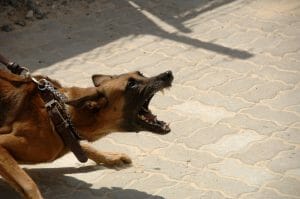 What Do I Do If My Dog Has Bitten Someone?
Having your dog bite someone is a heartbreaking experience. Regardless if you think your dog was at fault, there are some important steps to take to ensure the best outcome of this situation for everyone.
Separate your Dog – The first course of action you should take when your dog has bitten someone is to separate your dog from the bitten person. This will ensure no further damage is caused as well as calm the bitten person.
Attend to Injuries – Once your dog is removed, attend to the bitten person's injury. If the bite is serious, help them by calling emergency medical services. Do what you can to stop any bleeding in the meantime.
Exchange Information – Exchange contact and insurance information with the person.
Get Witnesses – If there were people around whom witnessed the accident, it's good to obtain their contact information as well.
Contact a Personal Injury Lawyer – Get in touch with your lawyer and inform them of the incident. With dog bites you want to be prepared in case the person bitten takes legal action. This includes getting proof of your dog's rabies vaccination history and hiring a Maryland personal injury attorney to help advise you on how to handle legal proceedings.
What Do I Do If I Have Been Bitten By a Dog?
If you were bitten by a dog it can be a very frightening situation. Here's what to do to ensure your safety and health:
Get to Safety – If you were bitten by a dog, the first step is to protect yourself and yours and get to safety. Here is a guide from CesarsWay.com to help you in determining what to do in the event of a dog attack.
Get Medical Attention – Communicate the severity of your injuries to those around you and have them call 911 if necessary.
Exchange Contact Info – Get the contact from the dog's owner as well as any nearby witnesses that saw the bite occur.
Get a Statement of What Happened – Contact local authorities in order to get a statement written about the incident and have the situation documented. Even if the dog didn't hurt you, or only bit your tire, the situation could have been much worse.
Contact a Personal Injury Lawyer – Decide if you want to take legal action. If the bite isn't serious and the owner is a close friend or family member, you may not feel the need to take action, but if you do, hiring an attorney is your first move. A personal injury lawyer can help you collect compensation for things like medical expenses and lost wages if you had to miss any work due to the injury.
Looking for a reliable and experienced Maryland personal injury lawyer? The Law Offices of Ross W. Albers are proud to provide exceptional legal help to those in need throughout the state. We take a personal interest in each of our clients, provide expert legal advice, and will advocate for you every step of the way. Contact us today to schedule a free consultation.

The post What Should I Do After a Dog Bite? appeared first on Albers and Associates.