Attorney Ross Albers will speak during a free webinar hosted by the National Association of Criminal Defense Lawyers on September 12, 20017 from 1-2pm.  The topic is: "How Successful Attorneys Win More Clients."  Click here to register for this free webinar.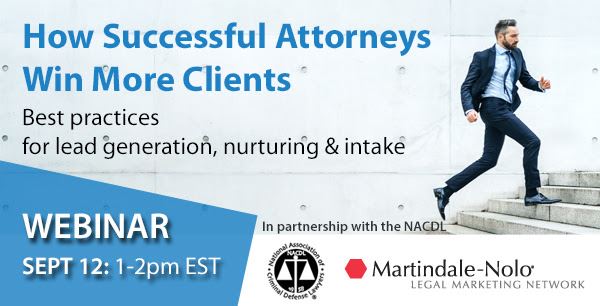 You've worked hard to obtain client leads and referrals for your law firm.  Now what do you do? Learn from our panel of online marketing and legal professionals as they share best practices, new technology, and intake resources that have helped attorneys win more clients.
Key topics will include:
Top 3 online lead generation tactics
Critical response time and follow-up best practices
How many leads it takes to close a deal
A simple, but effective email nurturing campaign
Cost-effective virtual receptionist services to close more deals
Intake practices & technology
Speaks will include:
Chelsey Langan, VP-Sales – Martindale-Nolo
Madeleine Xavier, Director of Marketing – Martindale-Nolo
Ross Albers, DUI Attorney – The Law Office of Ross W. Albers, LLC
Diana Stapleton, VP-Partner Engagement – Ruby Receptionists
Interested in joining our team?
Part of the vision of our firm is to not only provide excellent legal services but to also help our employees grow personally, professionally and financially.  This growth is encouraged in a number of ways.

First, through sales training with The Growth Coach of Greater Baltimore.  Law school does nothing to prepare lawyers for the business of law.  Every member of our firm, from the legal assistant to the owner, will undergo sales training to learn how to live a richer and fuller life while practicing law.

Second, by giving and showing our employees a path to success.  Telling a lawyer they need to generate business is different than showing them how to generate business.  Our firm wants you to be successful.

Finally, providing a work environment where everyone understands the ONE Thing that makes the firm successful.  Sharing the firm's goals and vision with its employees.

If you are a solo practitioner with an established practice looking to grow your business, then contact our office to schedule an interview.  Email office@rossalbers.com.

The post Ross Albers on Free Webinar: How Successful Attorneys Win More Clients appeared first on Albers and Associates.