What Do You Do When You Slip and Fall in a Restaurant?
Restaurants are highly hectic environments that can be quite hazardous. Between the servers racing about and fellow diners, it's easy to see why restaurants can get out of control. Sometimes, people are working so quickly that drinks or food can spill onto the floor and it might be some time before it gets cleaned up.
If you slip and fall in a restaurant, you may sustain injuries. What do you do when injured in a slip and fall accident at a restaurant?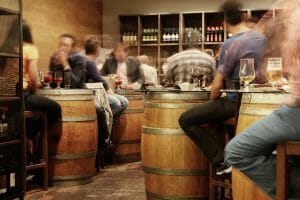 Premises Liability
Property owners are required to keep their spaces safe and clean according to the laws of the land. When someone falls and is injured on their property, they are held responsible for the accident based on a few stipulations.
For example, was the visitor legally allowed to be on the property? During normal business hours at a restaurant, dining patrons would be deemed "invitees" and thus, are legally allowed to be present. However, trespassers on the property after hours would most likely not be protected.
Another factor impacting the ruling would be the actions of the person who fell. If the actions of the visitor are deemed to be outside the "appropriate code of conduct", then this will most likely have an effect on the ruling of the accident.
For example, if a visitor fell and injured themselves while skateboarding within a restaurant, then this would probably fall outside of the appropriate behavior and thus, the visitor would be held liable.
Is the Business Responsible for Visitors Who Fall?
To determine whether or not the business owner is responsible for the injuries of the visitor, two out of the three following items must be proven.
The business owner (or employees of the establishment):
Caused the floor to become dangerous by making the floor slippery or laden with objects.
Knew of the dangers, but did nothing to fix it.
Should have been aware of the danger, but did nothing about it.
Now, this can be tricky when we get to the third bullet because of the phrase, "Should have known". It's often difficult to determine whether or not a business should have known. In these instances, it is best to seek out help from a Maryland slip and fall injury lawyer.
Ross Albers Can Help You With Your Personal Injury Claim
If you've slipped and fallen in a restaurant or another business, call Albers & Associates for help. We have the expertise and aggressive legal approach to get you the just compensation you deserve. You can reach us by phone or on our website to set up a free consultation to discuss your case.

The post What Do You Do When You Slip and Fall in a Restaurant? appeared first on Albers and Associates.