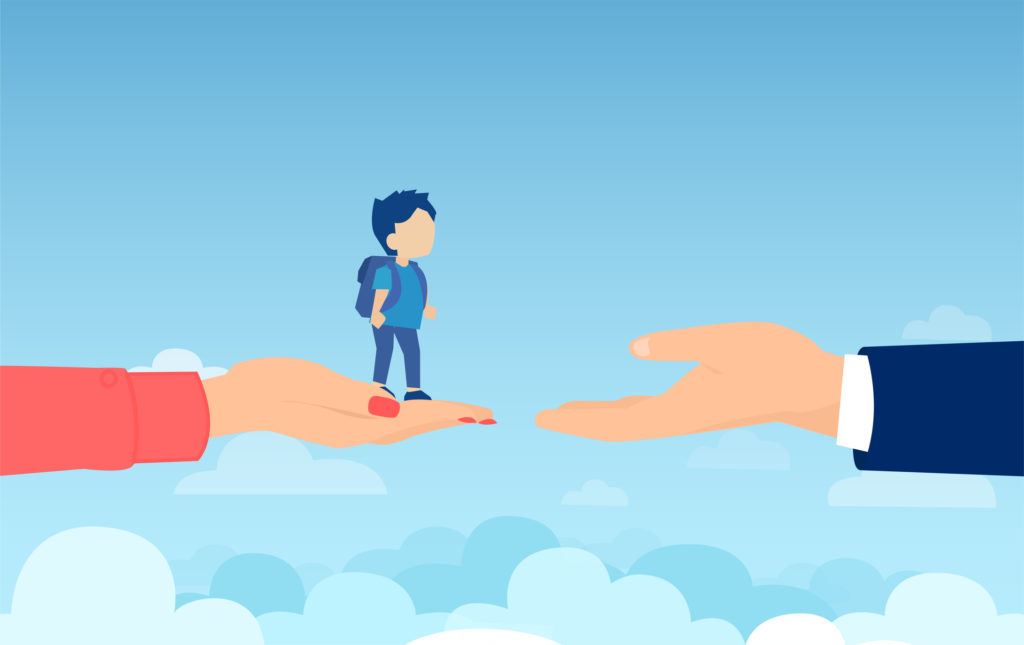 The divorce process in Maryland is fairly straightforward, but it becomes more complex when you have children with your soon-to-be ex. In most cases, having two involved parents is the ideal scenario for your kids; however, parenting becomes more difficult when living separately.
Aside from extreme circumstances, both parents typically maintain joint legal custody of their children after separation. For this reason, when the circuit court asks how you will raise your kids after the divorce during mediation, you and your ex-spouse should already have decided on an arrangement that works for everyone.
The two most common solutions are co-parenting and parallel parenting, which are on opposite ends of the childcare spectrum. This article will break down these systems so you can determine which approach will be the most beneficial for your family.
What Is Co-parenting?
Co-parenting is a collaborative childcare approach where both parents play an active role in their kids' daily lives. Under normal circumstances, this is the ideal way to address all your children's needs and encourage them to retain a healthy relationship with both parents.
However, this option will only work if parents are willing to share responsibilities and communicate with each other amicably on a semi-regular basis. It requires lots of patience, flexibility, and compromise. If parents cannot work together, joint custody arrangements can be infuriating, exhausting, and stressful for everyone involved — especially the children.
When done right, co-parenting can provide many benefits, including the following:
Boosts children's self-esteem: When kids feel the love of both parents, it will help them adjust more quickly to their new living situation. This lessens the likelihood of children blaming themselves for the divorce.
Achieves consistency in parenting: Observing the same rules, schedules, and routines between households helps children set boundaries and expectations for themselves. Abrupt changes in rules between households may cause them unnecessary anxiety.
Models a healthy relationship: Parents are the default idols of their children. Learning to co-parent amicably demonstrates what a healthy, low-conflict relationship looks like to their kids.
What Is Parallel Parenting?
As the name suggests, parallel parenting is a shared child-rearing method where the parents interact as little as possible with each other while fulfilling their obligations to their kids. In this arrangement, each parent has total control over their own parenting style. There's no need to collaborate with the other parent in the decision-making process.
Parallel parenting may be an ideal option for partners who cannot civilly communicate with each other or are unwilling to work as a unit. However, depending on the situation, parallel parenting may be a long-term solution or a temporary strategy until partners undergoing a divorce can put aside their differences.
This technique offers distinct benefits, including:
Limiting children's exposure to conflict: Frequent, intense, and unresolved parental conflict can lead to mental health issues for kids. Children exposed to such tension may acquire behavioral and academic challenges. For this reason, parallel parenting is the optimal choice for some families.
Gives parents time to heal: A bitter divorce can be a traumatic experience; while some people can resolve their conflict amicably, others may need years to recover. Frequently running into an ex-spouse can jeopardize the healing process. Choosing a low-contact method like parallel parenting can help parents get the distance they need and move on as individuals.
Leverage a mediation specialist: If you're going through a rough divorce, you can hire a mutually agreed or circuit court-assigned mediator or meddle person to help you coordinate your children's schedules. Proper mediation ensures that both parents will be able to spend enough time with their kids.
Which Method Is Best for Your Family?
There's no one-size-fits-all solution for families undergoing a divorce. Ultimately, the best method for your family is the one that allows you and your children to heal as quickly and effectively as possible.
Before deciding on a preferred parenting strategy, ask yourself the following questions:
How much contact with the other parent are you comfortable with?
Can you civilly communicate with the other party regarding your children?
Which method will reduce the tension for everyone in the family?
Typically, co-parenting will only work if you're willing to regularly communicate with your ex about your children's welfare and your parenting methods. However, if you find that you and your former partner cannot get along, parallel parenting may be the most painless option moving forward.
Work With a Family Lawyer Now
Without a nuanced understanding of the local Maryland laws, the shared responsibility of raising children in a new setting might overwhelm you. If you need help navigating the complex custody process, a family lawyer can help you understand the pros and cons of each option while providing clear and supportive legal counsel.

With offices in Baltimore, Columbia, Towson, Northern Virginia, Westminster, and Dundalk, we're here to help you with any questions you may have. Contact us, or call our experts at Albers & Associates at (443) 665-8030 to learn how we can help you find the best parental strategy for your children.

The post The Differences Between Co-parenting and Parallel Parenting appeared first on Albers and Associates.